CMVS support in PhotoSynthToolkit:
First of all, I'm sorry this post is not about CMVS support in PhotoSynthToolkit

. Releasing the PhotoSynthToolkit with CMVS support is way more complicated than predicted… This is because it is not just a file conversion process (as in my PhotoSynth2PMVS). I have designed a library (OpenSyntherLib) that extract features, match them, build tracks and then triangulate them using PhotoSynth cameras parameters. The problem is that this library is highly configurable to match each dataset needs. So providing an automatic solution with good parameters is difficult.
The new PhotoSynth2CMVS tool generates bundler-compatible file ("bundle.out"). I've sent the bundle.out file of the V3D dataset to Olafur Haraldsson and he has managed to create a 36 million vertices point cloud with it! It will be showcased in a next post.
PhotoSynth WebGL Viewer:
As soon as I've seen the SpiderGL presentation at the 3D-Arch Workshop I've decided to implement a PhotoSynth viewer with WebGL! Thanks to Cesar Andres Lopez I've found XB PointStream which is very well designed and documented. Implementing a PhotoSynth Parser turns out to be super easy! Porting my PhotoSynthParser.cpp took less than 10min thanks to the jDataView and binary ajax developed by Vjeux. After 2 hours of hacking I got this first viewer: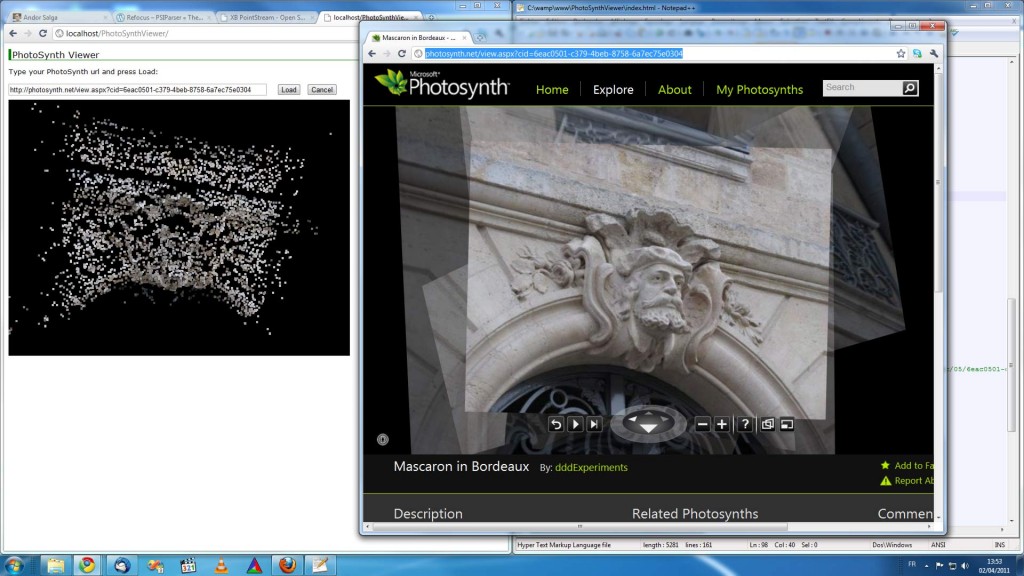 I can't host the viewer on my website has it is using a proxy to fix ajax cross-domain security issue (thus it will kill my bandwidth limit). So I've made a video to show you how it looks:

The viewer source code will be hosted on my GitHub and I'm working on a Google Chrome extension to by-pass the need of a proxy… Having a Google Chrome extension that replace the Silverlight viewer on photosynth.net would be nice too (if you don't have Silverlight).