PhotoSynth Toolkit is a photogrammetry solution based on PhotoSynth and PMVS2.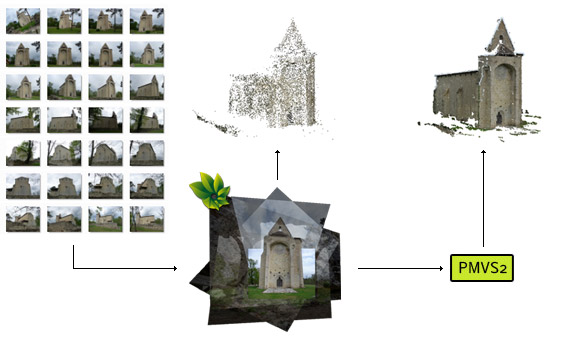 Development status:
ToDo:
triangulate feature tracks computed with OpenSynther thanks to camera pose found by PhotoSynth (this way we can use CMVS)
Credits
PhotoSynth2PMVS: enable to run PMVS2 with a downloaded PhotoSynth point cloud
PMVS2: http://grail.cs.washington.edu/software/pmvs/ created by Yasutaka Furukawa
PhotoSynthViewer: Ogre3D PhotoSynth viewer
PMVSVisibilityComputer: tool to generate vis.dat from a previous PMVS2 call
PhotoSynthDownloader: download PhotoSynth point cloud and cameras parameters
PhotoSynthTileDownloader: download tiles of HD picture and compose them using Ogre::Canvas
Links:
Binary: PhotoSynthToolkit11.zip.
Source code: github repository (MIT license).
Help: Photogrammetry forum.
Video tutorials
Josh Harle from Neonascent has created 5 video tutorials explaining how to use my PhotoSynthToolkit:
Related post: